Church Chat – Adult Small Group
Time: 9:45am ONLINE
Join Church Chat for a follow up book study. Starting Feb 28, 2021 at 9:45am we will be studying the book "God Can't Q&A" by Thomas Jay Oord. Email Rev Denyse. for the zoom link.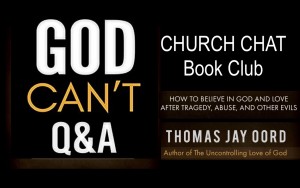 Hurting people ask heart-felt questions about God and suffering. Some "answers" they receive appeal to mystery: "God's ways are not our ways". Some answers say God allows evil for a greater purpose. Some say evil is God's punishment.
The usual answers fail. They don't support the truth God loves everyone all the time. God Can't gives a believable answer to why a good and powerful God doesn't prevent evil.
God Can't is written in understandable language. Thomas Jay Oord's status as a world-renown theologian brings credibility to the book's radical ideas. He explains these ideas through true stories, illustrations, and scripture.